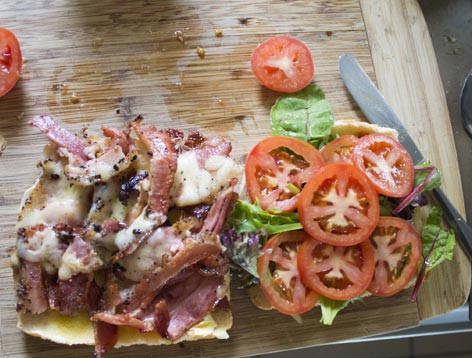 1

roll store-bought polenta

1 pound

1

tablespoon

butter

1 1/2

cups

diced onions

1/2

pound

boneless

skinless chicken breast, chopped

6

slices

pre-cooked bacon

chopped

2

cups

shredded Manchego cheese

divided use

1/3

cup

Raspberry balsamic vinegar

1/3

cup

Chipotle Extra Virgin Olive Oil

3

tablespoons

pecan pieces

1

tablespoon

chopped fresh cilantro
1

roll store-bought polenta

1 pound

1

tablespoon

butter

1 1/2

cups

diced onions

1/2

pound

boneless

skinless chicken breast, chopped

6

slices

pre-cooked bacon

chopped

2

cups

shredded Manchego cheese

divided use

1/3

cup

Raspberry balsamic vinegar

1/3

cup

Chipotle Extra Virgin Olive Oil

3

tablespoons

pecan pieces

1

tablespoon

chopped fresh cilantro
Preheat oven to 400 degrees F.

Spray a 13×9 inch pan with cooking spray.

Slice polenta into 12 equal rounds.

Heat a large (10 or 12 inch) non-stick skillet over medium.

Grill polenta rounds for 4 minutes on each side.

Lay rounds, keeping as close together as possible, across bottom of pan.

Add butter and onions to skillet and cook over medium for 3 minutes.

Add chicken and cook with onions, breaking chicken up into very small chunks, for 4 minutes or until chicken is just-opaque.

Remove from heat and stir in chopped bacon.

Sprinkle 1 cup of the shredded cheese evenly over polenta rounds; Spoon chicken mixture evenly over cheese.

Drizzle raspberry chipotle sauce over cheese, then top with remaining 1 cup of cheese.

Sprinkle pecans over top.

Bake for 8-10 minutes or until cheese is melted and sauce is bubbly; sprinkle top with cilantro.

Serve on small plates, tapas style.