Vegan Wellington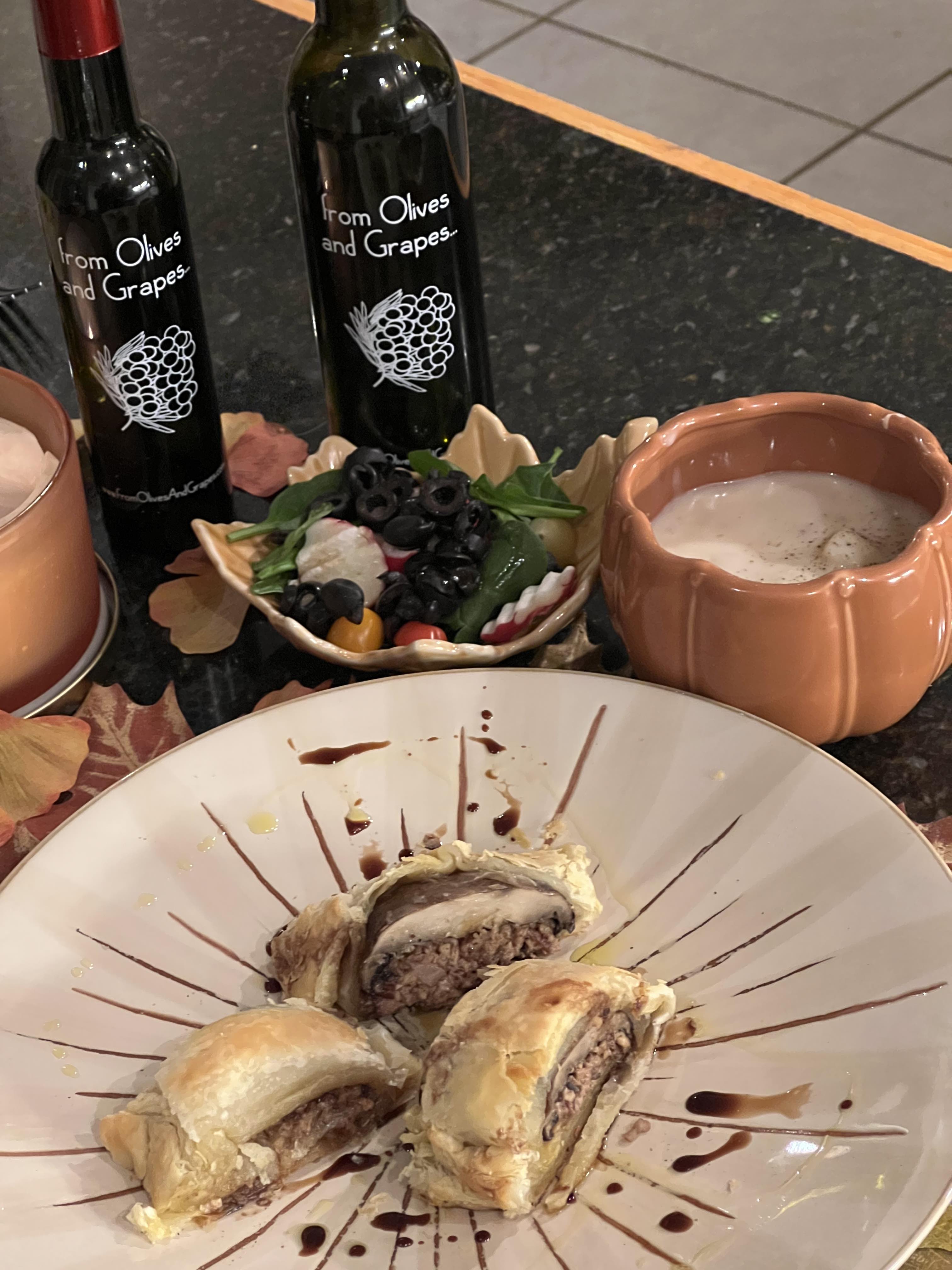 Vegan Portobello and Pecan Wellington
Ingredients

for the mushroom layer-

6 portobello mushroom tops

1/4 cup of From Olives & Grapes Wild Mushroom & Sage flavored olive oil

2 teaspoons chopped garlic

salt and freshly ground pepper

for the pecan "meat layer"-

1 shallot, chopped

3/4 teaspoon chopped garlic

2 cups pecans, toasted

1/4 cup any From Olives & Grapes 100% pure extra virgin olive oil

3 tablespoons chopped sage

2 tablespoons dried oregano

salt to taste

1/2 teaspoon freshly ground black pepper

3/4 tablespoon smoked paprika

for the pastry-

17 ounces vegan puff pastry sheets, such as Penelope Farm Brand

flour for dusting

Directions
make the mushroom layer: preheat oven to 400 degrees. Remove gills and stem and toss caps with Mushroom & Sage olive oil. Season with garlic, salt and pepper. Place caps on a sheet pan and roast until tender, 15-20 minutes. Set roasted caps aside. Leave oven on.
Make the pecan "meat": Place shallots and garlic in a food processor and pulse until finely chopped. Transfer mixture to a large bowl in the food processor, pulse pecans until crumbly. Transfer pecans to shallot mixture. Add pure olive oil, sage, oregano, salt, pepper and paprika to mixture. Mix by hand until well combined. Set aside.
Make the Wellington: on a lightly floured surface, roll out the puff pastry and lay down 3 mushroom caps in a row lengthwise. Top with pecan meat in a line and cover with three more mushrooms. Roll into a log shape. Fold edges and crimp seam on bottom to seal. Transfer to a parchment-lined sheet pan. Bake until pastry is golden, 25 – 30 minutes. Let rest 5 minutes. Slice and serve.