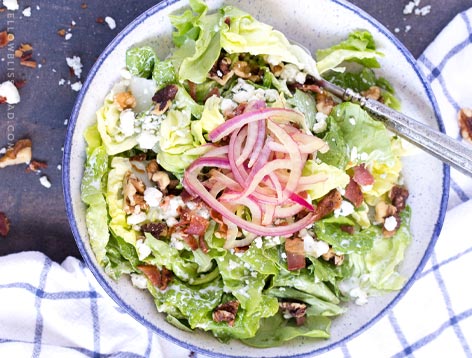 8

Cup Spring Mix

rinsed and patted dry

1

Pint Fresh Blueberries

½

Crumbled Blue Cheese

1

small red onion

thinly sliced

1

in

Cup Grape Tomatoes

slicedhalf

1

Mandarin Orange

Clementine, or Tangerine, peeled and separated into sections.

1/3

Cup Chopped Pecans

Optional

¼

cup

from Olives & Grapes Wild Blueberry Balsamic Vinegar

½

cup

from Olives & Grapes Blood Orange Olive Oil

or Meyer Lemon is a nice alternate too

Sea Salt & Crushed Black Pepper

to taste
8

Cup Spring Mix

rinsed and patted dry

1

Pint Fresh Blueberries

½

Crumbled Blue Cheese

1

small red onion

thinly sliced

1

in

Cup Grape Tomatoes

slicedhalf

1

Mandarin Orange

Clementine, or Tangerine, peeled and separated into sections.

1/3

Cup Chopped Pecans

Optional

¼

cup

from Olives & Grapes Wild Blueberry Balsamic Vinegar

½

cup

from Olives & Grapes Blood Orange Olive Oil

or Meyer Lemon is a nice alternate too

Sea Salt & Crushed Black Pepper

to taste
Prepare salad greens, fruit, cheese, onion & tomatoes by arranging on chilled salad plates.

To make the vinaigrette, thoroughly whisk vinegar, oil, salt & pepper in a small bowl.

Whisk until the oil and vinegar has emulsified.

Pour over the prepared salad, top with optional chopped nuts and serve immediately.