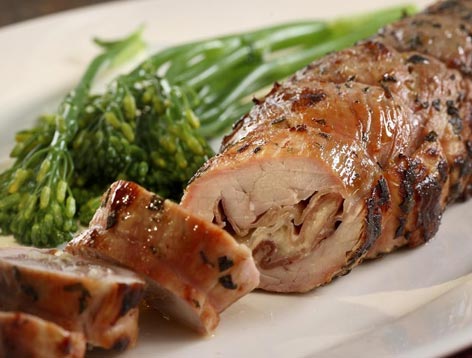 6

Tbs. Porcini-infused Extra Virgin Olive Oil

2

Lbs. Pork Tenderloin

Salt & Pepper

1/2

Lb. Bacon

cooked and crumbled for garnish

1

Tbs. Finely Chopped Garlic

1

Tsp. Finely Chopped Fresh Rosemary

1/3

Cup 18-year Traditional or Fig Balsamic Vinegar

2

Tbs. Dark Molasses

1

Tbs. Fresh Parsley
6

Tbs. Porcini-infused Extra Virgin Olive Oil

2

Lbs. Pork Tenderloin

Salt & Pepper

1/2

Lb. Bacon

cooked and crumbled for garnish

1

Tbs. Finely Chopped Garlic

1

Tsp. Finely Chopped Fresh Rosemary

1/3

Cup 18-year Traditional or Fig Balsamic Vinegar

2

Tbs. Dark Molasses

1

Tbs. Fresh Parsley
Brown pork in 3 Tbs. of Porcini Oil, after seasoning with salt and pepper, for 3-5 minutes until brown.

Put in the oven and roast until the internal temperature is 165 degrees.

Then transfer to a platter and keep warm.

Pour cooking juices from the pan over the meat.

Cook bacon in pan until crisp.

Drain all but 2 Tbs. of bacon grease.

Add garlic and saute until light brown, add rosemary.

Remove from heat and add balsamic, still while adding molasses.

To finish sauce, return pan to heat and stir in remaining juices from meat, stir in parsley and remaining 3 Tbs. of Porcini Oil.

When ready to serve, slice meat 1/4" thick and arrange on heated plates.