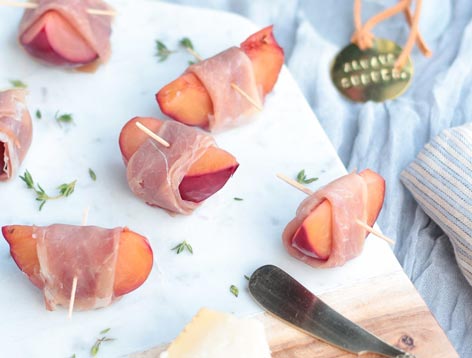 8

ounces

soft fresh goat cheese

3/4

teaspoon

ground black pepper

6

thin prosciutto slices

2

teaspoons

Champagne Wine vinegar

1

teaspoon

minced shallot

1/2

teaspoon

Dijon Mustard

1/2

teaspoon

honey

2

tablespoons

100% pure Extra-Virgin Olive Oil.

4

ounces

baby arugula

6

sweet firm red plums

halved, pitted, cut into 1/4-inch-thick, such as Burgundies or Satsumas

wedges

1

teaspoon

thinly sliced fresh mint

for garnish
8

ounces

soft fresh goat cheese

3/4

teaspoon

ground black pepper

6

thin prosciutto slices

2

teaspoons

Champagne Wine vinegar

1

teaspoon

minced shallot

1/2

teaspoon

Dijon Mustard

1/2

teaspoon

honey

2

tablespoons

100% pure Extra-Virgin Olive Oil.

4

ounces

baby arugula

6

sweet firm red plums

halved, pitted, cut into 1/4-inch-thick, such as Burgundies or Satsumas

wedges

1

teaspoon

thinly sliced fresh mint

for garnish
roll cheese into 1-inch-thick log about 10 inches long.

Sprinkle with 3/4 teaspoon pepper.

Cut log crosswise into 6 equal pieces.

Wrap each piece with prosciutto.

Whisk vinegar, shallot, mustard, and honey in medium bowl; gradually whisk in oil.

Season with salt and pepper.

Add arugula; toss to coat.

Divide plums and prosciutto-wrapped goat cheese pieces among plates.

Place dressed arugula alongside; garnish with mint.