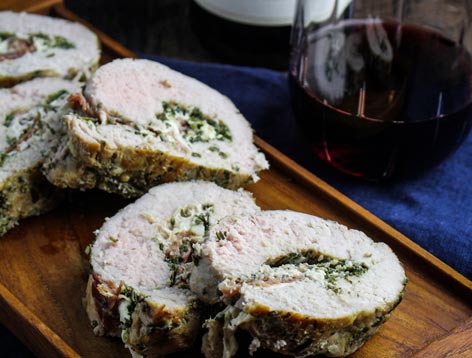 2/3

cup

Pinot Noir Wine Vinegar

3

tablespoons

extra virgin olive oil

divided

2

tablespoons

chopped fresh rosemary

4

cloves

garlic

minced

Salt and freshly ground pepper to taste

1

pork tenderloin

24

baguette slices
2/3

cup

Pinot Noir Wine Vinegar

3

tablespoons

extra virgin olive oil

divided

2

tablespoons

chopped fresh rosemary

4

cloves

garlic

minced

Salt and freshly ground pepper to taste

1

pork tenderloin

24

baguette slices
Stir together vinegar and 1 tablespoon olive oil, rosemary, garlic, salt and pepper in a medium

Place pork and 1/2 cup marinade in a large re-sealable plastic bag; refrigerate pork and

reserved marinade for several hours or overnight.

Brush baguette slices with remaining 2 tablespoons olive oil.

Grill or cook in a hot grill pan, turning once, until pale golden and lightly grill marked.

Remove pork from marinade and place in a small roasting pan.

Bake for 20 to 25 minutes or until pork reaches 150°F internally.

Let stand for 5 to 10 minutes, then thinly slice.

Place 2 slices onto each baguette and brush with reserved marinade..

Makes 8 appetizer servings.