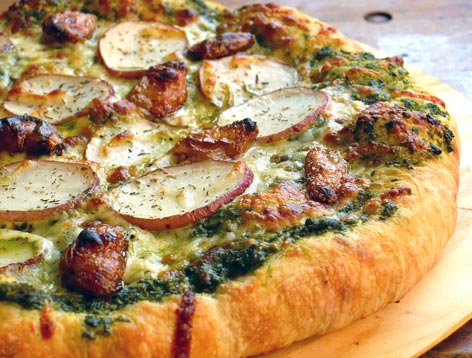 2

in

lbs. Pizza Dough (freshly made

Boboli, or store boughtrolls)

cup

½roasted garlic paste

¼ from Olives & Grapes… Basil flavored olive oil

cup

¼Pesto Genovese

Course cornmeal for the baking sheet

4-5

inch

large

vine-ripened tomatoes, of any color or variety, sliced 1/8thick

Sea Salt & freshly ground pepper

1

cup

freshly grated Parmesan cheese
2

in

lbs. Pizza Dough (freshly made

Boboli, or store boughtrolls)

cup

½roasted garlic paste

¼ from Olives & Grapes… Basil flavored olive oil

cup

¼Pesto Genovese

Course cornmeal for the baking sheet

4-5

inch

large

vine-ripened tomatoes, of any color or variety, sliced 1/8thick

Sea Salt & freshly ground pepper

1

cup

freshly grated Parmesan cheese
Preheat oven to 500 degrees F.

Place baking sheet in oven to preheat.

Shape 1/3 of pizza dough into a 10 inch circle on a lightly floured board.

Spread with 1/3 of the garlic paste. Be sure to spread to within a half-inch of the edge.

Drizzle with 1/3 of the basil Olive Oil then sprinkle 1/3 of the pesto on dough and spread out smoothly on top of garlic paste.

Remove baking sheet from oven and sprinkle with cornmeal.

Transfer pizza to baking sheet and put in oven.

Bake until light brown and bubbling, about 10 minutes.

Remove pizza from oven and quickly arrange sliced tomatoes on top.

Season with salt and pepper to taste.

Sprinkle with 1/3 of parmesan cheese and return pizza to oven another 2 to 3 minutes or until cheese melts.

Immediately transfer to a board, cut and serve.

Repeat for two remaining pizzas.

Makes three 10 inch pizzas; or serves 6 as a supper with a salad.