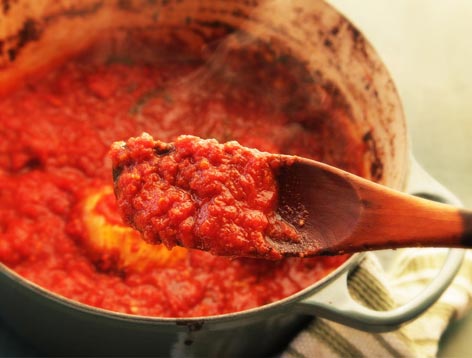 4

tablespoons

from Olives & Grapes 100% pure Extra Virgin Olive Oil

1

medium onion

very finely chopped

1/2

cup

red wine

3

cloves

garlic

finely chopped

1

can tomatoes with juice

28 ounces

1/2

cup

Romano or parmesan cheese.

3-4

large basil leaves

chopped

Salt and freshly ground black pepper
4

tablespoons

from Olives & Grapes 100% pure Extra Virgin Olive Oil

1

medium onion

very finely chopped

1/2

cup

red wine

3

cloves

garlic

finely chopped

1

can tomatoes with juice

28 ounces

1/2

cup

Romano or parmesan cheese.

3-4

large basil leaves

chopped

Salt and freshly ground black pepper
Heat oil to medium-low in saucepan.

Add onion and cook until translucent, 5 - 8 minutes.

Add red wine and stir until the alcohol has evaporated, about 3 minutes.

Add garlic, cook and stir 2 minutes.

Add tomatoes and cheese and stir well.

Simmer uncovered 20 - 30 minutes.

Add basil and cook 5 minutes more.

Season with salt and pepper to taste.