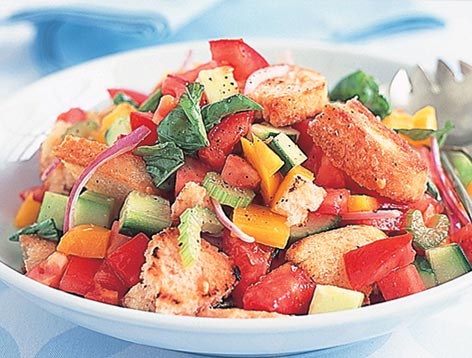 4

to 5 large vine-ripened tomatoes

cut into large cubes or wedges

1/2

pound

stale country-style Italian bread

crusts removed and cubed (about 8 cups)

1-1/4

cups

thinly sliced red onions

2

TBS minced garlic

1/4

cup

Oregano White Balsamic vinegar

1/4

cups

100% pure Extra-Virgin Olive Oil.

1

bunch fresh basil

stems removed, washed and spun dry, torn into pieces

Sea salt and freshly ground pepper to taste
4

to 5 large vine-ripened tomatoes

cut into large cubes or wedges

1/2

pound

stale country-style Italian bread

crusts removed and cubed (about 8 cups)

1-1/4

cups

thinly sliced red onions

2

TBS minced garlic

1/4

cup

Oregano White Balsamic vinegar

1/4

cups

100% pure Extra-Virgin Olive Oil.

1

bunch fresh basil

stems removed, washed and spun dry, torn into pieces

Sea salt and freshly ground pepper to taste
In a large bowl, combines tomatoes, bread, and onions.

In a small bowl, whisk together the garlic, vinegar and olive oil.

Pour the dressing over the bread salad and let sit for 30 minutes at room temperature.

Add the basil and salt and pepper to taste, and toss to combine.