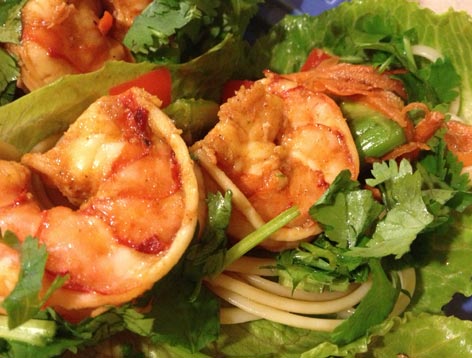 3

Tablespoons Blood Orange-infused Extra Virgin Olive Oil

1

½ Tablespoons Pineapple White Balsamic Vinegar

1

teaspoon

minced fresh peeled ginger

2

teaspoons

chopped fresh mint

teaspoon

½sea salt

cup

½peeled cubed fresh pineapple

cup

½peeled cubed avocado

cup

½peeled

cubed cantaloupe or honeydew melon

pound

½peeled cooked medium shrimp

4-

large Boston Bibb lettuce leaves

cup

¼rough chopped macadamia nuts

toasted*
3

Tablespoons Blood Orange-infused Extra Virgin Olive Oil

1

½ Tablespoons Pineapple White Balsamic Vinegar

1

teaspoon

minced fresh peeled ginger

2

teaspoons

chopped fresh mint

teaspoon

½sea salt

cup

½peeled cubed fresh pineapple

cup

½peeled cubed avocado

cup

½peeled

cubed cantaloupe or honeydew melon

pound

½peeled cooked medium shrimp

4-

large Boston Bibb lettuce leaves

cup

¼rough chopped macadamia nuts

toasted*
In a medium bowl, whisk together the oil, vinegar, ginger, mint and salt.

Add the pineapple, avocado, melon and shrimp.

Place one lettuce leaf onto each of the four plates rib side down.

Spoon equal amounts of avocado mixture in each then top with the macadamia nuts.

Drizzle with additional Blood Orange Olive Oil.

*To toast nuts, place in a small skillet over medium heat. Shake skillet often until nuts are golden all over about four minutes.