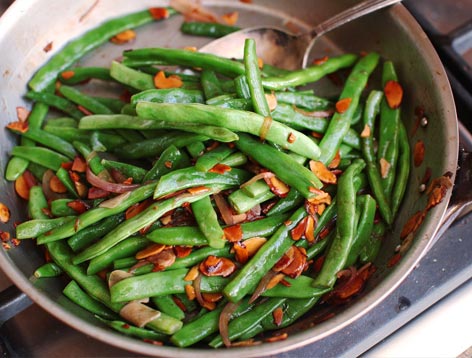 1

pound

bag fresh Green Beans – Cleaned and cut

3

tablespoon

– 5 garlic cloves ½ - 1Rosa Maria Blend Seasoning

6

in

– 7 sun dried diced tomatoes

packedoil

cup

¼ - ½feta cheese – crumbled

cup

¼ - ½red onion – diced

4

ounces

Basil flavored From Olives & Grapes extra virgin olive oil

1

– 2ounces From Olives & Grapes Sicilian Lemon White Balsamic Vinegar (or Tarragon EVOO and

Lemongrass Mint vinegar)
1

pound

bag fresh Green Beans – Cleaned and cut

3

tablespoon

– 5 garlic cloves ½ - 1Rosa Maria Blend Seasoning

6

in

– 7 sun dried diced tomatoes

packedoil

cup

¼ - ½feta cheese – crumbled

cup

¼ - ½red onion – diced

4

ounces

Basil flavored From Olives & Grapes extra virgin olive oil

1

– 2ounces From Olives & Grapes Sicilian Lemon White Balsamic Vinegar (or Tarragon EVOO and

Lemongrass Mint vinegar)
Peel garlic slice very thin.

Place green beans in a deep skillet- with just enough water to cover bottom of pan and beans.

Add garlic & Rosa Maria Blend Seasoning.

Cover and steam until beans are al-dente or to your liking.

In a mixing bowl, whisk together the olive oil and vinegar, sun dried tomatoes, feta cheese, red onion.