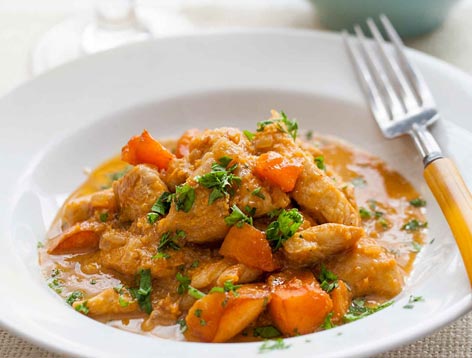 1

Chicken – quartered

¼ Cup From Olives & Grapes Herbs de Provence EVOO

2

T

From Olives & Grapes Apricot Whit Balsamic

or to taste

2-3

cloves

garlic minced

or to taste

1

Small onion quartered and separated

8-10

in

Dried apricots

cuthalf (use fresh apricots ifseason, pitted and quartered)

1

Cup of Chicken Stock

divided

2

T

Apricot Preserves

T

½Corn Starch
1

Chicken – quartered

¼ Cup From Olives & Grapes Herbs de Provence EVOO

2

T

From Olives & Grapes Apricot Whit Balsamic

or to taste

2-3

cloves

garlic minced

or to taste

1

Small onion quartered and separated

8-10

in

Dried apricots

cuthalf (use fresh apricots ifseason, pitted and quartered)

1

Cup of Chicken Stock

divided

2

T

Apricot Preserves

T

½Corn Starch
In a small bowl, using your immersion blender (or whisk,) blend together the Herbs de Provence

EVOO and the Apricot White Balsamic until creamy.

Taste the dressing and add more balsamic if desired.

Fold in the garlic to taste season with salt and pepper.

Using a shallow baking dish, pour in chicken stock then place chicken skin side up in pan and

brush with the Apricot/EVOO dressing.

Add the onions and the apricots

Place in oven and bake until internal temperature reads 165* on instant read thermometer. (30-40

Remove chicken transfer drippings to sauté pan bring to a simmer. Whisk cornstarch into

remaining ½ cup of chicken stock.

Whisk into drippings and simmer until thickened, add apricot preserves continue whisking until dissolved.

Add more liquid if needed.