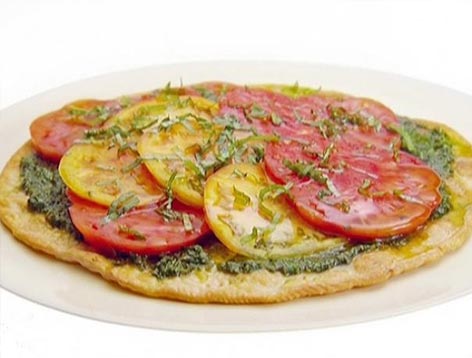 2

medium heirloom or 4 plum tomatoes

cut into 1/8-inch thick slices, 12 ounces

2

tablespoons

thinly sliced fresh basil leaves

100

% pure Extra-virgin olive oil for drizzling

Kosher salt

Crust

1

refrigerated pie crust or toasted flat bread

9-inch

Pesto

2

cups

fresh basil leaves

1/4

cup

toasted pine nuts* see Cook's note

1

garlic clove

peeled

1/2

teaspoon

Kosher salt

plus more to taste

1/4

teaspoon

Freshly ground black pepper

plus more to taste

1/2

cup

to 2/3100% pure extra-virgin olive oil

1/2

cup

grated Parmesan cheese
2

medium heirloom or 4 plum tomatoes

cut into 1/8-inch thick slices, 12 ounces

2

tablespoons

thinly sliced fresh basil leaves

100

% pure Extra-virgin olive oil for drizzling

Kosher salt

Crust

1

refrigerated pie crust or toasted flat bread

9-inch

Pesto

2

cups

fresh basil leaves

1/4

cup

toasted pine nuts* see Cook's note

1

garlic clove

peeled

1/2

teaspoon

Kosher salt

plus more to taste

1/4

teaspoon

Freshly ground black pepper

plus more to taste

1/2

cup

to 2/3100% pure extra-virgin olive oil

1/2

cup

grated Parmesan cheese
For the crust: Place an oven rack in the center of the oven.

Preheat the oven to 425 degrees F.

Place the pie crust on an ungreased baking sheet and bake for 7 minutes until lightly golden.

Cool for 20 minutes. ( If you use Flat bread, brush with olive oil the cook time is about 4 minutes.)

For the pesto: In a blender or food processor, pulse the basil, pine nuts, garlic, 1/2 teaspoon of

salt, and 1/4 teaspoon pepper until finely chopped.

With the machine running, slowly add the olive oil until the mixture forms a smooth and thick

Add the Parmesan cheese and pulse until combined.

Season with salt and pepper to taste.

Using a spatula, spread the pesto over the cooled crust.

Arrange the tomato slices on top of the pesto and garnish with the sliced basil.

Drizzle with olive oil and sprinkle with salt.

Cut the tart into wedges and serve.

TIPS: Cook's note: To toast pine nuts, place on a baking sheet in a single layer and bake for 8 to 10 minutes in a preheated 350-degree F oven until lightly browned.