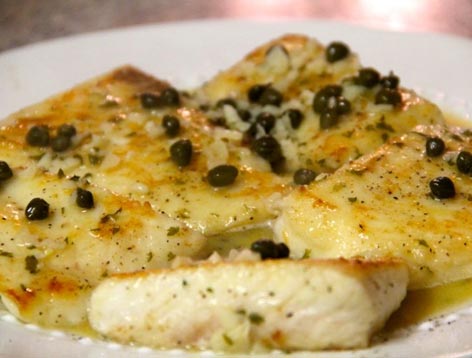 2

TBS capers

drained and roughly chopped

1/4

cup

chopped cornichon pickles

2

hard-boiled eggs

peeled and diced fairly finely

1/3

cup

Italian parsley

1/4

cup

100% pure Extra-Virgin Olive Oil.

1

tablespoon

fresh lemon juice

1

cup

flour

4

ounces

halibut fillets

6 - 7each

2 - 3

TBS vegetable oil

Lemon wedges

salt and pepper to taste
2

TBS capers

drained and roughly chopped

1/4

cup

chopped cornichon pickles

2

hard-boiled eggs

peeled and diced fairly finely

1/3

cup

Italian parsley

1/4

cup

100% pure Extra-Virgin Olive Oil.

1

tablespoon

fresh lemon juice

1

cup

flour

4

ounces

halibut fillets

6 - 7each

2 - 3

TBS vegetable oil

Lemon wedges

salt and pepper to taste
Combine the capers, cornichons, eggs, parsley, olive oil and lemon juice in a bowl.

Whisk well so that the egg yolks begin to break down and make the sauce creamier.

Season with salt and pepper. Set aside.

Put the flour in a shallow bowl.

Season the fish with salt and pepper, then dredge completely in the flour.

Heat 2 TBS vegetable oil in a skillet, then add 2 halibut fillets flesh-side down.

Cook for about 5 minutes, turn the fish over and cook another 5 minutes for medium doneness. Transfer to a warmed plate.

Repeat with the other 2 fillets, adding more oil to the pan if necessary.

Spoon the sauce over the fish and garnish with lemon wedges.