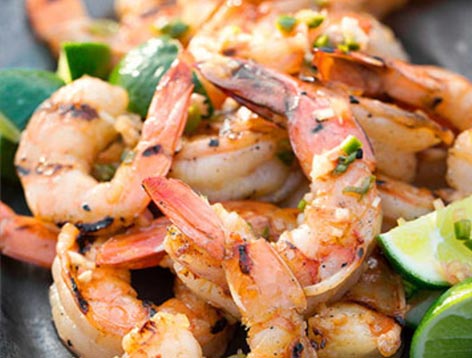 16

large shrimp

uncooked

3

tablespoons

100% pure Extra-Virgin Olive Oil.

1/2

teaspoon

White Truffle oil

1/4

cup

fresh lemon juice

2

tablespoons

chopped sweet onion

2

tablespoons

chopped fresh parsley leaves

Salt and freshly ground black pepper
16

large shrimp

uncooked

3

tablespoons

100% pure Extra-Virgin Olive Oil.

1/2

teaspoon

White Truffle oil

1/4

cup

fresh lemon juice

2

tablespoons

chopped sweet onion

2

tablespoons

chopped fresh parsley leaves

Salt and freshly ground black pepper
Preheat barbecue grill (oil hot grill to help prevent sticking).

Peel and devein the shrimp, leaving tails on.

Using a sharp knife, butterfly shrimp by cutting along the inner curve or underbelly about halfway (almost completely through), leaving the tails firmly attached.

Press the shrimp down flat like a butterfly.

Place prepared shrimp in a shallow dish and sprinkle with olive oil; refrigerate, covered, until ready to cook.

In a medium bowl, combine white truffle oil, lemon juice, onion, and parsley.

Season to taste with salt and pepper; set aside.

When ready to cook, season the shrimp lightly with salt and pepper.

Place shrimp onto hot grill and cook approximately 2 minutes on one side; turn and cook another 1 minute or until shrimp are opaque in center (cut to test).

To serve, arrange shrimp (split sides up) on a serving plate.

Drizzle with a little of the vinaigrette.

Place remaining vinaigrette in a small bowl and place on plate for dipping.