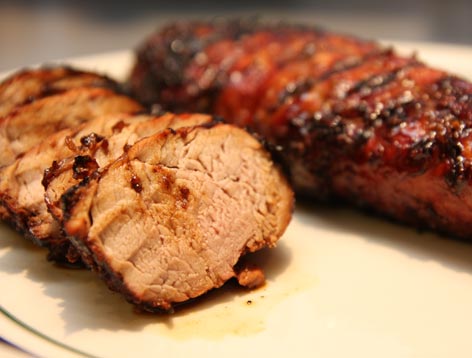 1/4

cup

unsulphured blackstrap molasses

2

tablespoons

from Olives and Grapes Red Apple Dark Balsamic Vinegar

2

tablespoons

Dijion mustard

2

tablespoons

coarse-grained mustard

1

tablespoon

from Olives and Grapes Garlic-flavored Olive Oil

1-3/4

pounds

pork tenderloin
1/4

cup

unsulphured blackstrap molasses

2

tablespoons

from Olives and Grapes Red Apple Dark Balsamic Vinegar

2

tablespoons

Dijion mustard

2

tablespoons

coarse-grained mustard

1

tablespoon

from Olives and Grapes Garlic-flavored Olive Oil

1-3/4

pounds

pork tenderloin
Whisk molasses, vinegar and both mustards in a small bowl to blend, then set aside, or put into a

BBQ sauce squirt bottle and shake well.

prepare BBQ (medium-high heat)

rub pork with the garlic olive oil

sprinkle pork with salt & pepper

grill pork until thermometer when inserted in center registers 145 deg. F. Turn pork occasionally

with tongs for about 20 minutes.

transfer pork to serving platter, let rest for 5 minutes.

cut pork crosswise on slight diagonal into 1/2 inch thick slices (an electric knife is great for this).

Arrange pork slices on platter, drizzle sauce on pork.

You can also marinate pork for 4 hours in the sauce.