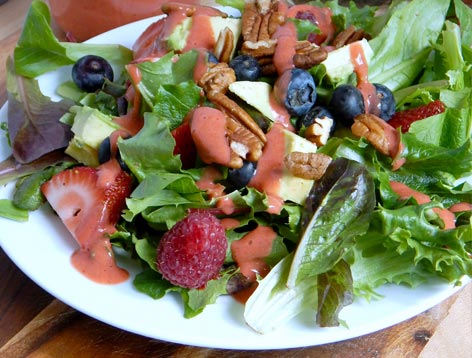 8

C. Spring Mix

rinsed and patted dry

1/2

Lb. Aged Goat or Feta cheese

crumbled

1/3

C. Chopped Pecans

2

C. Fresh Strawberries

quartered or sliced

1/2

C. Fresh Sprouts

3

Tbs. Strawberry Balsamic Vinegar

1/3

C. - 1/2 C 100% Pure Extra Virgin Olive Oil

Salt & Pepper to taste
8

C. Spring Mix

rinsed and patted dry

1/2

Lb. Aged Goat or Feta cheese

crumbled

1/3

C. Chopped Pecans

2

C. Fresh Strawberries

quartered or sliced

1/2

C. Fresh Sprouts

3

Tbs. Strawberry Balsamic Vinegar

1/3

C. - 1/2 C 100% Pure Extra Virgin Olive Oil

Salt & Pepper to taste
Prepare salad greens, cheese, pecans and strawberries by arranging on plates.

To make vinaigrette: thoroughly whisk vinegar and salt/pepper in a small bowl.

Add the EVOO in a slow stream while continuing to whisk until it is emulsified. Adjust vinegar and oil ratio to your taste.

Pour over the prepared salad, top with sprouts and serve immediately.