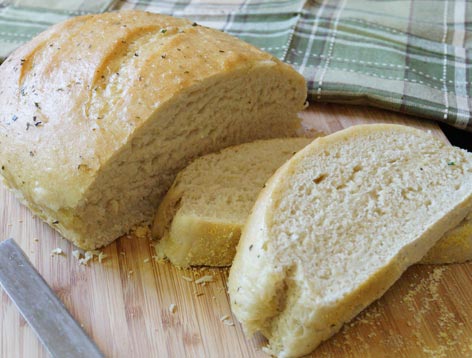 1/2

cups

warm water

about 110 degrees F

2-1/4

teaspoons

active dry yeast

1

teaspoon

white sugar

1

teaspoon

salt

4

tablespoons

from Olives & Grapes Extra Virgin Olive Oil

2-1/2

cups

all purpose flour
1/2

cups

warm water

about 110 degrees F

2-1/4

teaspoons

active dry yeast

1

teaspoon

white sugar

1

teaspoon

salt

4

tablespoons

from Olives & Grapes Extra Virgin Olive Oil

2-1/2

cups

all purpose flour
In a large bowl, mix together the warm water, yeast, sugar, salt and olive oil.

Stir in 2 cups of the flour in order to make a soft ball.

Knead in additional flour so that dough is soft and not sticky.

Place kneaded dough in a medium-size greased bowl.

Cover and let rise until doubled in size.

Punch down dough and form into a ball or loaf shape.

Place onto greased cookie sheet.

Cover and let rise for 15 to 20 minutes.

Preheat the oven to 375 degrees F.

Bake in the preheated oven for 30 to 40 minutes until golden brown.