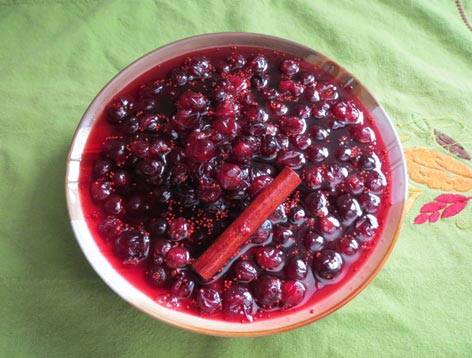 1 1/4

cups

Sugar

1/2

cup

Raspberry balsamic vinegar

1/4

cup

water

1

package fresh cranberries

12-ounce

1

cinnamon stick

1

tablespoon

thinly sliced orange peel
1 1/4

cups

Sugar

1/2

cup

Raspberry balsamic vinegar

1/4

cup

water

1

package fresh cranberries

12-ounce

1

cinnamon stick

1

tablespoon

thinly sliced orange peel
In a large saucepan over medium heat, combine sugar, raspberry vinegar, and water;

bring to a boil, stirring until sugar dissolves.

Mix in cranberries, cinnamon stick, and orange peel.

Reduce heat to low, cover partially, and simmer 10 minutes or until cranberries burst.

Remove from heat and cool completely (sauce will thicken as it cools).

NOTE: Can be made up to one week in advance.