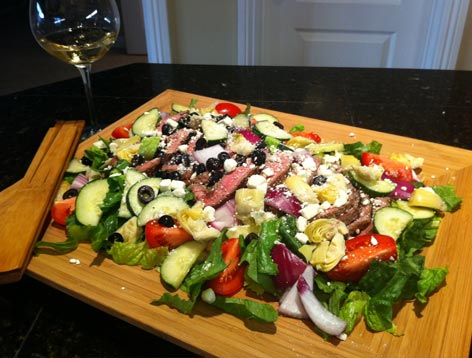 2

day-old French rolls

cut into 1" square cubes, 6" long

7

tablespoons

Tuscan Herb Olive Oil

2

tablespoons

Sicilian Lemon White Balsamic Vinegar

2

cloves

garlic

minced

1

tablespoon

chopped fresh parsley leaves

1

tablespoon

chipped fresh oregano

2

teaspoons

salt

1

teaspoon

coarse grind black pepper

4

cups

fresh spinach leaves

torn into bite-size pieces

1

jar marinated artichoke hearts

chopped, 6 ounce

1/2

small red onion

peeled and thinly sliced

1/2

cup

sliced black olives

4

boneless strip steaks

1" thick

1/2

cup

grated Parmesan cheese
2

day-old French rolls

cut into 1" square cubes, 6" long

7

tablespoons

Tuscan Herb Olive Oil

2

tablespoons

Sicilian Lemon White Balsamic Vinegar

2

cloves

garlic

minced

1

tablespoon

chopped fresh parsley leaves

1

tablespoon

chipped fresh oregano

2

teaspoons

salt

1

teaspoon

coarse grind black pepper

4

cups

fresh spinach leaves

torn into bite-size pieces

1

jar marinated artichoke hearts

chopped, 6 ounce

1/2

small red onion

peeled and thinly sliced

1/2

cup

sliced black olives

4

boneless strip steaks

1" thick

1/2

cup

grated Parmesan cheese
Spread bread cubes in single layer on a rimmed cookie sheet.

Bake, stirring occasionally, until golden brown and crisped, about 12-15 minutes.

In a large mixing bowl, whisk together 6 tablespoons olive oil, vinegar, garlic, parsley, oregano, salt and pepper until evenly blended.

Add spinach, artichoke hearts, onion, olives and bread cubes.

Divide salad evenly on 4 serving plates.

Heat the remaining 1 tablespoon oil in a large non-stick skillet over medium-high heat until hot but not smoking.

Add steaks and cook for 5 minutes.

Do not move steaks during that time (so that a crust will form on bottom of steaks).

Using tongs, turn steaks over.

Reduce heat to medium and continue to cook for 5 minutes more.

Cut each steak crosswise into thin strips.

Place evenly atop salad on plates.

Drizzle with any remaining pan juices.

Sprinkle with Parmesan cheese and serve immediately.